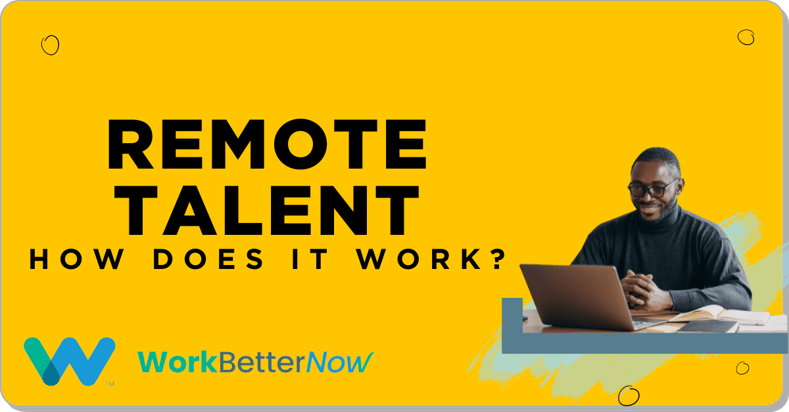 Today, more people are opening up to remote talent than ever before due to several factors. Firstly, the COVID-19 pandemic has accelerated the trend towards remote work, with many businesses having to adapt to new ways of working to maintain operations during lockdowns and social distancing measures.
Secondly, remote talent provides businesses with greater access to skilled professionals, enabling them to find the best and most suitable candidates for their needs. This has proven particularly attractive for startups and small businesses who may not have the resources to hire full-time employees.
Additionally, remote work enables individuals to work from anywhere, allowing them to choose their preferred location, reduce commute time, and better manage their work-life balance.
What is Remote Talent?
Remote talent refers to skilled professionals who work remotely for companies, typically from their homes or a location of their choice. These individuals offer their skills and expertise to businesses without being physically present in an office. Remote talent can work in various roles, from customer service and administrative support to specialized fields such as marketing, design, and software development. Remote talent is often contracted or freelanced, allowing businesses to scale up or down as needed without the overhead costs associated with traditional employees.
How Does Remote Talent Work?
Remote talent typically refers to workers in different geographic locations who work on a project or provide services remotely, using communication and collaboration technologies.
Here's how remote talent typically works:
Finding and hiring talent:

Businesses or individuals can use job posting platforms or work with recruitment agencies to find remote talent. Once they have identified the right candidate, they can interview and select them for the job.




Setting up communication and collaboration tools:

Remote workers need access to communication and collaboration tools to work effectively. These tools can include email, messaging platforms, video conferencing software, project management software, and file-sharing platforms.




Establishing goals and expectations:

Clear communication and goal setting are important for remote workers to understand what is expected of them and to ensure that they are on the same page as their employers or clients.




Assigning tasks and tracking progress:

Employers or clients can assign tasks and track progress using project management software. This helps ensure work is completed on time and to the desired quality.




Paying remote workers:

Remote workers are typically paid by the hour, project, or on a monthly basis. Payment can be made through electronic payment systems such as PayPal or direct bank transfer.
Overall, remote talent allows businesses and individuals to access a larger pool of talented workers and work with individuals with specialized skills that may not be available locally.
How Do I Find Remote Talent?
There are a number of ways to find remote talent for your organization and pros and cons for each. Here are a few:
Online job boards and Freelance Platforms:
Pros: There are a number of online job boards and Freelance Platforms that focus on remote work.
Cons: It takes time, resources, and patience to sift through your project's potential candidates.
Social media:
Pros: LinkedIn, Twitter, and Facebook are all great places to connect with remote talent. You can use hashtags like #remotework, #digitalnomad, and #freelancer to find people who are interested in remote work. 
Cons: It takes time to check references to see if this remote talent professional is up to par for your company.  
Referrals: 
Pros: Ask your colleagues, friends, and family if they know of any talented professionals who are looking for remote work opportunities. 
Cons: Your pool of candidates gets exponentially smaller since only some know people who provide the remote talent with the specific skills you seek.  
Remote staffing agencies: 
Pros: Some staffing agencies, like WorkBetterNow, specialize in remote work. It is a much quicker, more cost-effective way to help you find and hire remote talent that fits your organization's needs. 
Cons: Not all staffing agencies specialize in remote talent. Seek out an agency where remote talent is their primary function.  
Regardless of your method of finding remote talent, be sure to ask for samples of the candidates work and references. Conduct interviews to ensure they have the skills and experience you need. It's also essential to ensure candidates have the necessary tools and equipment to work remotely, such as a reliable internet connection and a comfortable workspace.
Why Should You Use Remote Talent

 From WorkBetterNow?

WorkBetterNow provides pre-vetted, top-notch remote talent. Hand-matched for your business. Remote talent can be a game changer for small and midsize businesses, allowing companies to access incredible talent from Latin America with great aptitude, attitude, experience, and English fluency. These virtual assistants work from their homes, providing a cost-effective, and flexible solution for businesses needing assistance with various roles – from marketing coordinators to project managers to customer service representatives.

WorkBetterNow offers a simple process to match businesses with the right remote talent, from a 15-minute consultation to hand-selecting the best candidates for interviews. By outsourcing administrative and other tasks to remote talent, companies can free up time and resources to focus on their core competencies, accelerating growth and driving success. With remote talent, businesses can get more done, achieve better results, and compete in an increasingly fast-paced and complex global marketplace.

For more information, check out WorkBetterNow.com. Mention Great Game on the call to get $150 off the first 3 months of remote talent services!